Dusty Blue Wedding Stationery

by Array for Weddings
View our featured wedding stationery collection by Array or Weddings!
Stunning dusty blue invitations and coordinating favors, gifts tags and more.
A handwritten, signature font combined with a modern sans serif is used in this floral stationery collection to set a warm and intimate tone for your wedding. Borders of lush flowers and foliage in shades from dusty blue to soft pink blush partner with watercolor backgrounds in this mix n' match stationery set.
Dusty Blue Color Palettes
Dusty blue can be paired with many great colors because it is so versatile. Here are a few dusty blue themed color palettes to inspire your color pairings. Dusty blue paired with blush pink is warm and elegant and ideal for spring and summer weddings. Pair dusty blue with sage green and magnolia for a nature inspired, rustic wedding theme. You can use dried Eucalyptus leaves to add a dusty blue look to the bridal bouquet. Dusty blue and burgundy are great for Autumn, fall weddings. If you want something with sparkle and bling add copper, rose gold and bronze metallic accents to the dusty blue color theme. For a beach, destination wedding on a tropical island, dusty blue paired with turquoise or teal and a splash of lemon yellow is stunning!
Dusty Blue - Blush Pink - Burgundy
Dusty Blue - Sage and Magnolia
Dusty Blue - Teal.Turquoise and Yellow
Free Printables for your DIY projects and moodboard
Included here for your Pinterest moodboard, wedding planners and creating your own DIY wedding invitations, stickers and gift tags are color palettes, sticker printables and stunning dusty blue themed graphics in watercolor that you can download for your DIY projects. Please do share and pin our images and book mark the page as we add more bits and bobs periodically!
Free Dusty Blue and Coral Sticker Printable
Free Dusty Blue and Coral Sticker set which includes banners, flowers and leaves. Print and cut them out and glue to your scrapbooking projects as desired. Alternatively buy the ready made sticker set HERE.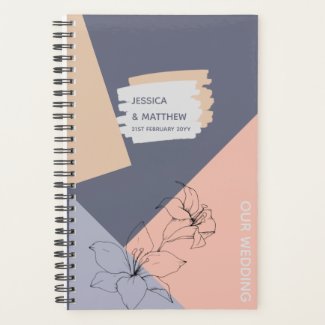 Dusty Blue Coral Wedding Planner Custom
These stickers are a wonderful match for this custom dusty blue and coral wedding planner
FREE Dusty Blue themed Graphics for your

DIY invitations and wedding planners
This pretty dusty blue watercolor graphic is ideal for wedding invitations and gift tags.
This dusty blue watercolor featuring butterflies and flowers would make a great sticker or gift tag printable.
This dusty blue flower is paired with teal and chocolate brown, beautiful graphic for DIY gift wrap, gift tags and more.
Dusty blue and Coral are a beautiful combination and this coral lace watercolor image is a great backdrop to your gift tags and invites and make a lovely decoupage paper.
This pinky coral floral image contrasts with dusty blue and is very complimentary. Ideal for printed papers as envelope liners, or a backdrop to invites and announcements.
Pretty dusty blue and white watercolor with flowers - makes a delightful backdrop for gift tags and invites.
Pretty dusty blue and white watercolor with flowers - makes a delightful backdrop for gift tags and invites.
Vintage dusty blue and purple watercolor style flowers, perfect for avor and gift tags.
This pretty scrapbooking style image makes a lovely frame for your engagement photos or save the dates with its dusty blue butterflies and soft blush pink and white flowers.
What goes with Dusty Blue? Color Palettes
Use these with your wedding planners, printed out or pin to your dusty blue themed moodboard on Pinterest! Hex codes included for easy color matching.
Dusty blue, also known as grey/blue, dusky blue or light denim blue is a very popular color for 2021, 2022 weddings. And it is no wonder as dusty blue (like the sky) makes a perfect backdrop for any other color! Dusty blue works well with coral, burnt orange, blush pink, deep burgundy, maroon and sage along with just about any other color. Page down for our dusty blue colour pairing charts to help you decide what colors looks best with dusty blue. When incorporating dusty blue into your wedding, you can make it the main color of have it as an accent color. dusty blue flowers can be added to a magnolia bouquet for a fresh and simple elegance, or as the main color for the wedding cake with ivory and coral blooms. You can accessorise the groom and groomsmen outfits with dusty blue ties, socks and handkerchief and you can have dusty blue flowers in your hair, bouquet and as shown in some examples below can have dusty blue embroidered flowers on your wedding dress. Dusty blue also looks fabulous as a tulle underskirt under a white opaque wedding dress. Wedding invitations look delightful with watercolor dusty blue abstract brush strokes and modern handwritten style script.
/